High Pressure Sewer Jetting and Flushing Truck
High pressure sewer jetting truck works by flushing and thrusting actions of high pressurized water which is transmitted to the clogged sewer line with a high pressure water hose and a sewer jetting nozzle. Destroying with high pressured water jet, remaining waste material is either naturally eliminated by sewer flow or carried to the manhole opening for collecting with a vacuum loader ( suction truck).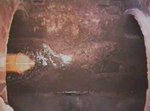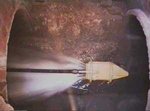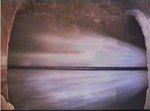 Truck Types
High pressure sewer flushing equipment can be produced on different kind of truck chassis of  two and three axles  with the following tank volumes.
Approx. 9.000 lt. with load capacity of 18t trucks
Approx. 16.000 lt. with load capacity of 26t trucks
Areas of Application and Use
Hydrodynamic sewer and pipeline cleaning of diameters from 150 to 1200 mm.
Hydrodynamic drain line cleaning
High pressure surface cleaning
High pressure industrial cleaning
General Features
Produced of St37 ( EN10025 – S235JR )
Cylindrical single chamber tank ( water tank)
High pressure plunger pump ( 150 – 400 lt/m @ 100 – 250 bar)
Cardan-shaft or v-belt driven plunger
3 exit split shaft PTO
Hydraulically driven high pressure hose reel
Hydraulic or pneumatic hose reel locking
Safety and filtering systems for high pressure jetting systems
| | |
| --- | --- |
| | High Pressure Sewer Jetting and Flushing Truck has a single chamber water tank with inside baffles. |
| | High Pressure Sewer Jetting and Flushing Truck's main and auxiliary sewer cleaning hoses and jetting pump. |
Although modern current applications and demands are towards combination suction and flushing vehicles, a sewer flushing vehicle can still justify its necessity where it is useful, both from an economical point of view, as well as its compact dimensions , especially for crowded cities' underground jobs .
In addition to above listed features, up on request, we can offer countless sewer jetting and flushing equipment variations to suit your individual requirements, providing optimal solutions to your specific disposal operations.
Please click below pdf file for detailed technical specifications of sewer jetting and flushing vehicle.
Technical Specification of High Pressure Sewer Jetting and Flushing Truck.pdf
High Pressure Sewer Jetting and Flushing Truck Catalog.pdf